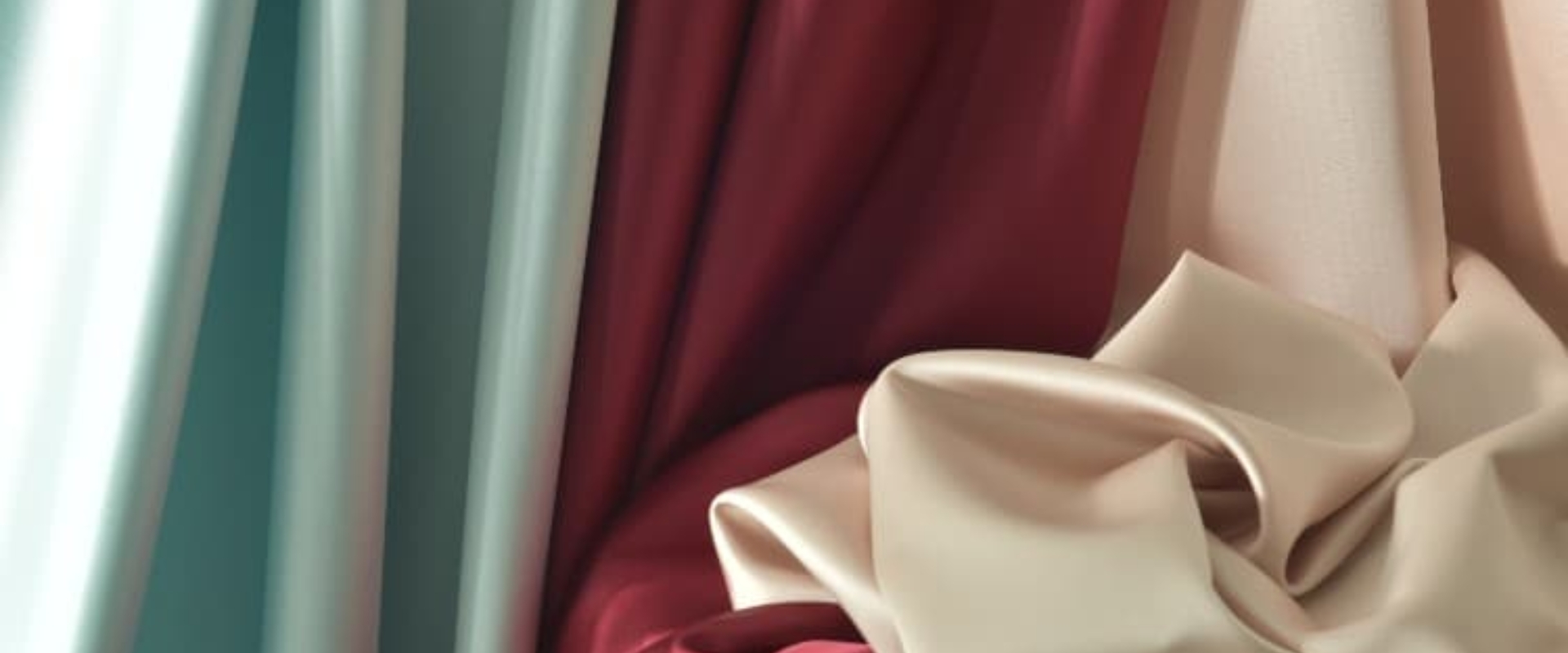 Even people who work closely with fabric still need help in differentiating between satin vs sateen fabric. The distinction between these two fabrics can be slightly bewildering.

They share almost the same feature both in appearance and texture. It's important to note if you have an upcoming project using one of these fabrics, you have to study what makes them different to avoid confusion and unwanted results for the consumer.

In addition, despite the similarity, satin, and sateen do not refer to fiber. The terms refer to the weave of the fabric. This article will guide you out of your confusion or simply curiosity between "satin" and "sateen" fabric.
Table of Contents
Definition of Satin and Sateen Fabric
Satin
Originating from Quanzhou city, China, previously during the middle-age satin are made solely from silk. As mentioned before, satin does not refer to the fiber or textile but to the fabric's weave. This satin weave can contain a variety of different materials. Yes, those plush-looking dresses you see might be made from satin.

The characteristic of satin is lustrous and soft. Even on the inside surface, it appears dull; the front side presents a shiny surface. Along with twill, and plain weave, satin is considered a primary textile.

Not only can they be found in wedding dresses, but they are also used as a material for upholstery (types of cushioned furniture), evening gowns, evening bags, bed sheets, and more. Satin is favorable because of its beautiful drape and lustrous finish.
Sateen
Take a similar term reference as satin; sateen does not refer to the fiber (materials) to produce the fabric. It refers to the weave of the fabric. Primarily, sateen is a woven cotton fabric with a glossy surface and a soft texture.

It is suitable to make bed linens, curtains, or clothes (pajamas, dresses, blouses with ruffled, skirts with frills). It is made from fiber like cotton and takes different fibers such as polyester, wool, and silk. Instead of filament yarns, spinning the woven sateen is used.

Moreover, the weaving pattern of sateen is different from other cotton fabrics. A regular weave pattern is one under and one over; meanwhile, for sateen, it is made from one under and four over warp yarn pattern that makes the fabric smoother.

The inside of the sateen fabric looks uninteresting and rough, but the front side is smooth. The good news is that this fabric is very versatile; it is wrinkle-resistant, has a soft texture, has an appealing glossy appearance, and has solid patterns and colors. It can also be scrubbed and bleached; you don't have to worry it will ruin if you wash it in the washing machine.
Satin vs Sateen Fabric, the Characteristics of Them
Let's begin with some characteristics of sateen:
It has a lustrous front side. Even when the inside appears dull, the reverse side looks lavish and shiny.
The beautiful drapes come from the flexibility of the fabric. It is suitable for dresses, gowns, evening wear, and curtains.
It offers durability. The material to make satin is long and robust filament woven. That is why compared to other plain weave fabrics, satin is stronger.
The fabric is not prone to wrinkles.
One of the drawbacks of satin is that it can easily tear.
Next, characteristics of sateen:
It offers a luxurious look with its glossy surface and smooth texture.
The level of durability is excellent. You can wear them for a long time. Besides, you do not have to worry it will damage or fade after being washed many times.
It is breathable. Sateen fabric is convenient, allowing the air to pass through.
Hypoallergenic. It won't trigger allergies in those who wear the fabric since it is made from natural cotton.
Easy to handle and wrinkle resistance. It has beautiful drapes and is easy to fold.
Comparison of Satin and Sateen Fabric
Here are some notable distinctions between satin and sateen. This can also answer your question about choosing fabric for clothing between these two fabrics.
The yarn in which the fabrics are made. Satin is made from filament yarns. Meanwhile, sateen is created from short-staple spun yarns.
The use of fabrics. Satin is fancy to be commonly used in clothing. From wedding dresses, evening wear, and lingerie to footwear such as ballet shoes. Its lavish look is also suitable for upholstery. Subsequently, sateen is mostly used for bed linen, sheets, and curtains. The materials have excellent durability.
The maintenance process. Satin is preferably hand-washed or dry-cleaned. Depending on the materials used to make the satin apparel, it can use a washing machine. For sateen, you are allowed to use a washing machine.
Color alterations process. Satin requires more process to be dyed. Meanwhile, sateen can be dyed, bleached, and printed more straightforwardly. It also gives a solid color result.
Satin vs Sateen Fabric: The Right Ways to Maintain Them
Take good care of your satin and sateen fabrics by following the guides below.

Also Read: Fairly Easy to Do, This is How to Prevent Clothes from Shrinking
Maintenance for satin:
As for satin, how you care for the fabric depends on the type of satin itself. If it is made from silk, then it has to be dry-cleaned. Whilst, it can be washed at home when made from synthetic fibers. You have to read the laundry instructions on your garments.
Things to note when you wash your satin at home; wash it by hand with a gentle detergent (non-chemical) and in cold water,
For stained satin, avoid using bleaching. Try enzyme-based stain remover to avoid the change of color,
Avoid squeezing satin to dry; it will make it wrinkle,
Best recommended to place the garment on top of a dry clean towel instead of a dryer or direct sunlight.
When ironing the satin, use low temperatures and move quickly rather than give pressure to the fabric to avoid damage,
Hang your satin to avoid wrinkles.
Maintenance for sateen:
You can either use a washing machine or hand wash,
For laundry, most importantly, look at the instructions for possible special care,
Sort the colors, don't mix light and dark colors,
After that, wash it with gentle detergent; it can use between cold or hot water temperatures,
Avoid getting too much apparel inside the washing machine for a thorough and more effective cleanness,
Treat the stain immediately using chemical-free bleaching, vinegar or baking soda,
Then, dry it on low heat or hang it in a shaded area,
Store it in an airy and cool space, away from the sun.
So you have an idea of the difference between satin vs sateen fabric now? Well, you might be reading this on your satin pajamas or evening gown on top of your sateen bed linen. Even when both terms are used interchangeably for similar looks and feel at the first sight, they are indeed distinct from one another. In case you are looking for stock lot garment buyers in Indonesia, you can visit this site stocklotimporter.com.